Yay or Nay – Food Trucks In The Town of Lexington
December 6, 2017 | Posted By: Connor Watkins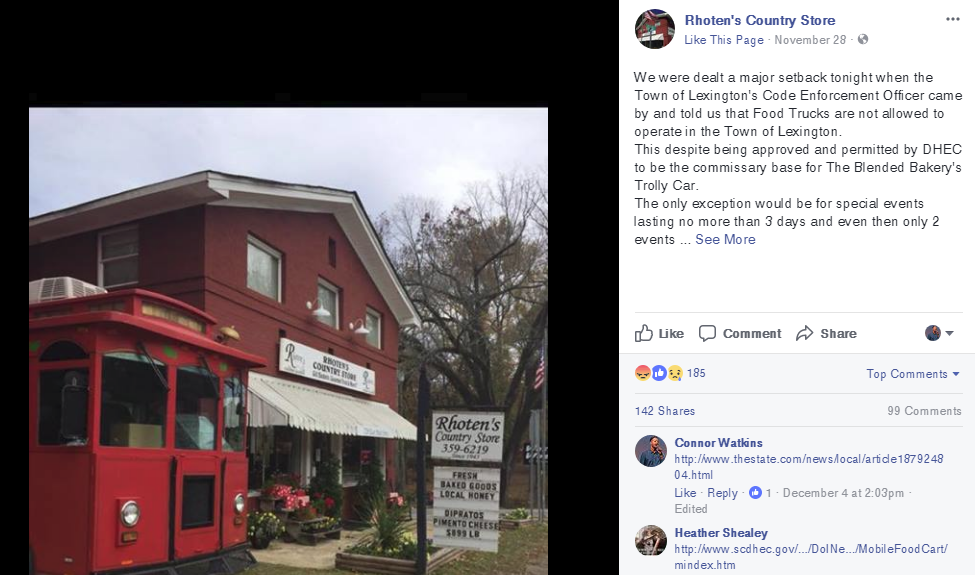 Update – January 22, 2018: Blended Bakery owner DJ Stone will be making a presentation on the food truck ordinance at the town council meeting tonight
at 6 at the Town of Lexington Municipal Complex (111 Maiden Lane, Lexington, SC). View Full Meeting Agenda
The State Newspaper published an article that has been a hot topic for almost a week now. The Blended Bakery, a popular local and family owned business,
was blocked from serving food from its trolley that was set up adjacent to Rhoten's Country Store.
According to the article, town rules adopted in 2014 limit food
trucks to brief stays at events such as festivals, concerts and farmer markets.

Following the shutdown, store owner Wes Rhoten took to Facebook to address the issue asking, "How does a law like this serve the public's interest?" The
post has garnered public support and been shared nearly 150 times.
"Unfortunate. The Blended Bakery has some really great items," one user commented. "It seems like the town places a road block at every turn for small
businesses."
When asked by another user why they would you not check with the town code enforcement before setting up, the bakery responded:
"We believed that with Rhoten's being our commissary (and the address on our DHEC permit), that was our place of business in the town (which you can operate
a food truck at your place of business without a permit). Clearly, that interpretation was incorrect and we are taking steps to address it. Regardless,
the ordinance needs to be reviewed in light of what the residents of the town want to be able to do."
Mayor Steve MacDougall told The State that changes to this ordinance would be open for council discussion as soon as January.
So yay or nay – Should food trucks be allowed in the Town of Lexington? Join the conversation here!