Lexington, Richland counties to host 2nd annual B2B Supplier Matchmaker Event
January 30, 2020 | Posted By: Connor Watkins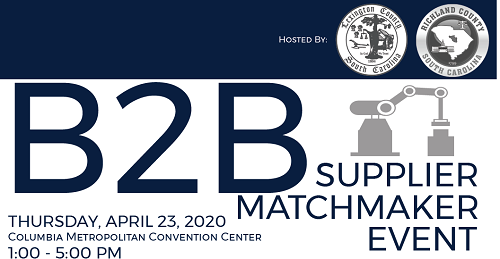 Lexington, S.C – Lexington and Richland county economic development officials are teaming up again to host the 2nd annual Business-2-Business
Supplier Matchmaker Event on Thursday, April 23, 2020, at the Columbia Metropolitan Convention Center.
Aimed at pairing supplier companies from Lexington and Richland counties with large employers and original equipment manufacturers, the event will be conducted
in a speed-dating format; large employers and OEMs will pre-select suppliers for 10-minute, one-on-one meetings to see if the companies would be a
match for future business.
"I would say that this is a great way to get out, know who your neighbors are, meet them face-to-face and make those connections," Joshua Lustman, a sales
executive for Alimex Precision in Aluminum, said. "You may end up with a new customer at the end of the day."
The meetings will be held between 1 and 4 p.m. with a networking reception to follow from 4 to 5 p.m. In 2019, companies such as Nephron Pharmaceuticals,
Apex Tool Group, Dominion Energy, Flex and CMC Steel were in attendance to meet with supplier companies.
The event is free for companies to attend, but registration must be completed by February 28. Registration is slated to open on Tuesday, January 28, and
can be accessed by visiting https://www.eventbrite.com/e/b2b-supplier-matchmaker-event-registration-91164454337.
Companies that are interested in registering for the event but have additional questions can contact the County of Lexington Economic Development team
at (803) 785-8147, or the Richland County Economic Development team at (803) 576-1329.