How FYZICAL Therapy & Balance Center Cares For The Lexington Community
February 10, 2021 | Posted By: splashme@splashomnimedia.com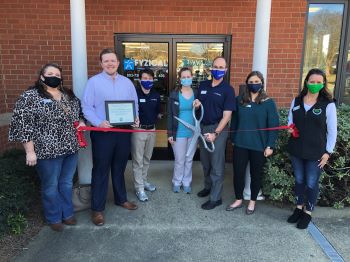 Many of the staff members at FYZICAL Therapy and Balance Centers Lexington grew
up in the area, which makes the therapy they provide more gratifying because of the special connections they have throughout the community.
The services at FYZICAL Therapy and Balance Centers Lexington encompass more than patient care. They target injury prevention, health and wellness
as well as provide work ergonomics and safety recommendations to various local industries throughout Lexington and the surrounding areas.
The staff is specialized in balance and vestibular training, allowing them to safely use and operate a safety overhead system to assist with balance
and vestibular therapy. They also have class 4 laser therapy and conduct one-on-one patient care. They offer medically based transitional fitness
training, which is targeted to clients that may have difficulty keeping up with their exercises or executing them properly once completing physical
therapy.
"Through interactions with our clients and each other, we've learned that having a positive attitude goes a long way and radiates to everyone around
you.," said Katherine Cupp, the FYZICIAN Liaison handling marketing and community outreach. "Also, one size does not fit all – you have to think
outside of the box sometimes to be effective and having a true, personal symbiotic relationship with clients goes a long way."
This company provides exemplary one-on-one physical therapy tailored to each individual's needs.
Katherine shared how gratifying it is to engage with and help clients become more independent and return to hobbies and activities that they enjoy
improving their quality of life.
FYZICAL Therapy and Balance Centers Lexington is looking forward to expanding their preventative services to our community. Find a location and learn
about their services at https://www.fyzical.com/.
Want to schedule your ribbon cutting?
Contact Sondra Gettys, VP, at (803) 359-6113 ext. 104 or sondra@lexingtonsc.org.