Greater Lexington Chamber receives Communications Excellence Award
April 30, 2018 | Posted By: Connor Watkins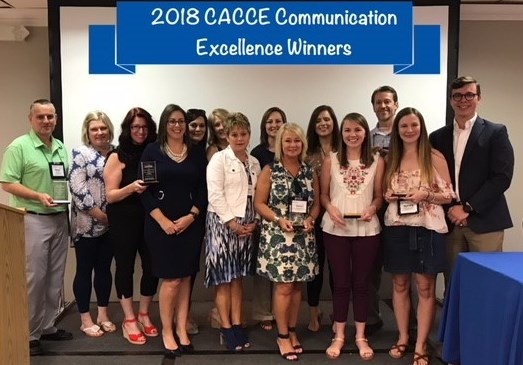 LEXINGTON, SC – The Greater Lexington Chamber and Visitors Center received a 2018 Communications Excellence Award
in Advertising & Marketing from the Carolinas Association of Chamber of Commerce Executives (CACCE) at its Staff Leadership Development Conference
in Hilton Head Island, SC.
The award was given in recognition of the Greater Lexington Chamber's advertising and marketing efforts for the 2017 Lexington Craft Beerfest that
brought more than 1,400 attendees to the town's Icehouse Amphitheater.
Communications were recognized in the following four categories:
Advertising & Marketing
Campaigns
Electronic
Publications
One award was presented to the highest scoring chamber in each of the four categories based on the following chamber sizes:
Under 700 members, or
Over 700 members
Entries were judged based on originality, design, quality and results achieved. The entries reflected communication efforts taken or completed during
the past 18 months.
The following chambers of commerce were recognized as 2018 CACCE Communication Excellence Award Winners:
Advertising & Marketing Category

Under 700 Members

Brunswick County Chamber – BrunscoHasIt.com
Over 700 Members

Greater Lexington Chamber – 2017 Lexington Craft Beerfest
Campaign Category

Under 700 Members

Anson County Chamber – Chamber Re-Branding Campaign
Over 700 Members

Wilmington Chamber – Your Advocate Branding Campaign
Electronic Category

Under 700 Members

Clayton Chamber – The Clayton Connection App
Over 700 Members

Greater Summerville/Dorchester County Chamber – The Jena and Kevin Show: Totality Awesome
Publication Category

Under 700 Members

Greater Statesville Chamber – CONNECT Magazine
Over 700 Members

North Myrtle Beach Chamber – Visitors Guide
CACCE is the professional development organization dedicated to improving the educational opportunities for chamber of commerce executives and staff
members in North Carolina and South Carolina. CACCE equips chamber of commerce professionals with leadership skills and tools to build innovative
chambers. The organization was formed in 1994 when the North and South Carolina state chamber associations merged.For more information on CACCE,
or any of CACCE's conferences or programs, contact Tiffany Fulmer Ott at 404.312.0524.
About the Greater Lexington Chamber and Visitors Center
The Greater Lexington Chamber and Visitors Center promotes business prosperity and a thriving community by providing services, advocacy and education
for its members. A nonprofit, 501 (c) 6 organization, the GLC&VC represents nearly 900 businesses and more than 30,000 employees. To learn
more about the Chamber and the Greater Lexington area, visit www.lexingtonsc.org.